Not much progress recently, partly down to illness and partly down to other hobby stuff (Risk Legacy is recommended!)

Anyway, here are the latest WIP shots:
I've finished 8 Black Dragons who now just need basing. I've got another couple of spare Easterling swordsmen around somewhere so may be up to a unit of 10 soon.
To go with these fellows I've also nearly finished a Dragon Knight and Warpriest: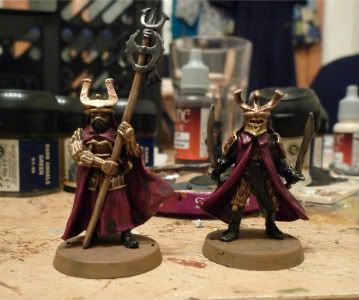 Finally this week, the King's Huntsman is finsihed apart from the arrows to go on his base, and Glorfindel is slowly nearing completion.